The strain gauge amplifier TA-8П
Print version
Developer: Dnepropetrovsk National University of Railway Transport named after Academician V. Lazaryan, Branch research laboratory of dynamics and durability of the rolling stock.
Manufacturer: PKF "Avtomatika-Service" (Dnipro).
This device is dedicated for measurement, registration and processing of signals of mechanical deformations, forces and pressure. TA-8P works with the personal computer which carries out functions of settig up the channels, data storage, processings and visualization of the studied processes.
Main technical characteristics of the device
№

Name and dimension of parameter

Value of parameter

1.

Quantity of signals

8

2.

Connection scheme of tensoresistors

bridge/halfbridge

3.

Nominal resistance of the tensoresistors Rn, Om

≥200 / ≥100

4.

Supply voltage of tenzobridge, VDC

4.096

5.

Power supply for tenzobridge

separate on each channel with protection from short cercuit

6.

Communication line type

the halfbridge – 3-wire;

the bridge – 4-wire

7.

Strengthening coefficients

400; 800; 1600; 3200; 6400

8.

Nominal ranges of measurements ∆R/Rn at supply voltage 4.096 V and Rn=200 Om, rel. unit×10-3

12.5; 6.25; 3.12; 1.56; 0.78

9.

Mode of measurements

Static dinamic

10.

Frequency range with disconnected FLF, Hz

0÷1000

11.

The range of initial balancing of tensoresistors resistance dispersion profided to their nominal value, % not less

±2

12.

Value of resistance of the built-in imbalances, kOm

560

13.

Cut frequency of FLF, Hz

20 (options are possible)

14.

Transfer coefficient of  FLF

1

15.

Unevenness of AFCh of FLF on a pass-band, % no more

2

16.

Output voltage of the channel, VDC

±5

17.

Communication Interface with the personal computer

≥USB 1.1

18.

Word length of the built-in ADС, bit

12

19.

Maximum frequency of transformation, kHz

120

20.

The temperature zero drift given to an entry, mkv/°C

2

21.

The time of zero shift drift  given to an entry after 20 min. warming up during 3 hours, mkv/°C

5

22.

Temperature instability of the channel transfer coefficient, rel. unit.×10-6/°C, no more

20

23.

Main channel error, %

±1

24.

Fixing of the channels settings (amplifying, balance, FLF)

long-term, non-volatile

25.

Power supply of the device

220 VAC, 50 Hz
Distinctive feature of the TA-8P is exlcluding the  high-frequency electromagnetic influence (portable radio stations, mobile phones, etc.) on measurement results.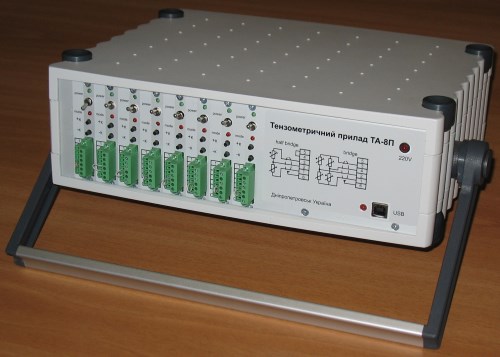 Contacts:
Lazaryana st., 2,
Dnipro,
Ukraine, 49010.
Tel. / Fax: (056) 776-72-44, 793-19-08